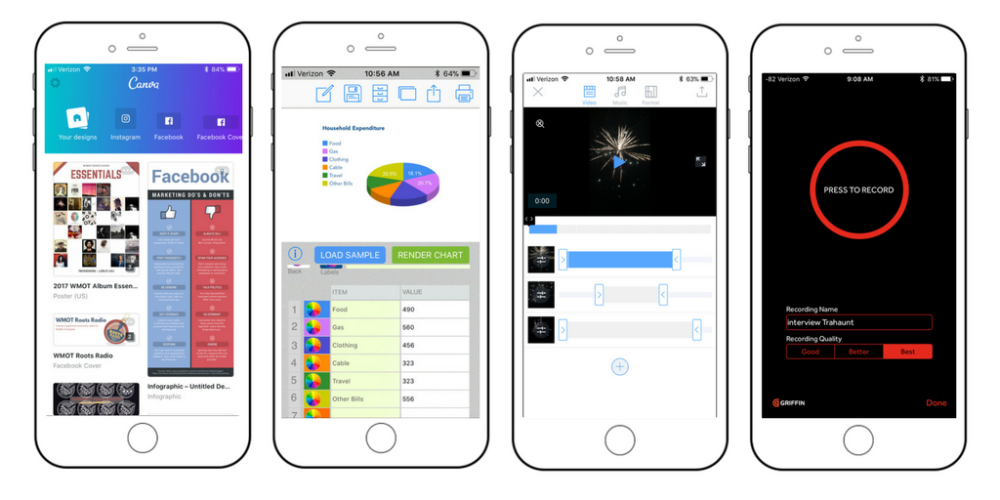 Your phone is a powerful reporting tool, much more than calls, emails and text messages. Your smartphone is a computer, camera, recorder and publishing tool that is always in your pocket. My Apps for Journalists list contains only apps that are practical and useful for journalists.
Notes, documents and file transfers

EVERNOTE – A note-taking app that syncs text, photos and audio to Internet connected devices. Journalists can use it to take notes, dictate short stories (and photo captions) with audio option, write stories, captions and submit for editing. Evernote can be connected to many mobile apps like Abbyy Textgrabber, iTalk audio recorder and Genius Scan. Use Evernote to store research, studies and PDFs via the Web Clipper on mobile and on desktop browsers. Evernote is more than an app, available as a Mac OS download, via Google Chrome, Windows and other browsers. FREE — available on iPhone, Android and other mobile platforms.
GOOGLE DRIVE – Create and edit documents and spreadsheets using Google Docs and Google Sheets. Store and share photos, videos and audio files. Google Drive is connected to many multimedia apps, which helps you import files into apps (like iMovie) or transfer and store large files. FREE 15 GB of space, available on iPhone and Android.
GENIUS SCAN – A PDF app that allows you to scan a document, create a PDF and email it as a JPEG or PDF. The Genius Scan+ version costs $2.99 and allows you to send scans to Dropbox, Evernote and Google Docs. FREE and paid versions — available on iPhone and Android.
ABBYY TEXT GRABBER – Capture printed text from documents, magazines, books, etc. Text can be copied, pasted and edited. Text Grabber recognizes 60 different languages. A similar software is used by law firms to copy documents. $7.99 — available on iPhone and Android.
Audio and call recording

TAPE A CALL – Record incoming and outgoing cellular phone calls. Pay for the app once, no extra charges. No time limit on recordings, upload to Dropbox, Evernote or Google Drive. $5.99 Available on iPhone and Android.
ITALK – iTalk is a full-featured audio recording app and a great solution for journalists in need of an audio recording app. Record high quality audio and choose from three levels of recording quality (11.025, 22.05, or 44.10 kHz sample rates). Free version supports emailing files. iTalk Premium is $1.99 and supports a variety of audio editing, video and storage apps.
JUST PRESS RECORD – Record audio interviews and notes then translate them into text and edit them right on your iPhone. You can even use Siri to start a recording.
OTTER – Get machine or human transcriptions of your audio files from your phone, a recorder or laptop. Try it for free with up to an hour of transcriptions.
REV VOICE RECORDING – Record audio interviews and get instant transcriptions (paid). Connects with Dropbox and Evernote for distributing and storing files. Transcriptions are done by humans with high accuracy at $1 per minute. Available on iOS and Android.
Photography, photo editing

CAMERA+2 – An advanced version of the original Camera+, this app allows you to shoot and edit RAW images on your iPhone. It has powerful photo editing tools along with presets, depth of field tools and more. $7.99 — available on iOS.
CAMERA+ – A camera app that allows you to shoot in automatic mode or manual mode. Use manual exposure, focus and white balance to get the best image. Basic photo editing tools. $3.99 — available on iOS.
VIDEO2PHOTO – You'll no longer have to decide whether to capture still photos or video. Record video and use this tool to scroll through each frame of your video and select an image to export for use on website, printed pages or social media. $1.99 — available on iOS.
FILTERSTORM – A photo-editing app for the iPhone and iPad. Filterstorm contains editing tools similar to Adobe Photoshop on your computer. You can edit using layers, curves for adjusting tone, color correction, sharpness, noise reduction and a history brush. Filterstorm has two important features for journalists: 1 – the ability to add IPTC or caption information to images and 2 – the ability to send images directly from the app to an FTP server, email, Dropbox and more. $3.99 — available on iPhone and iPad.
TERIPIX – Developed by photojournalists this app allows journalists to quickly add images and video to their digital platforms and archives. "Take pictures or video in the field, upload via smartphone, post to the media organization's web site – all within minutes". One of the best features of this app is the ability to add caption information to the image before uploading. There is a free version of this app for still images only. Teripix is an enterprise app and can be licensed for newsrooms.
Video and video editing

MOVIE PRO – A filmmaking app with full auto and manual controls for focus, exposure and white balance. What sets this app apart from others is the ability to listen to the sound you are recording with your video. Using a TRRS adapter you can record sound and listen live. Movie Pro also features a single-track video editor so you can create simple videos and quickly publish them. $4.99 for iOS.
FILMIC PRO – Shoot video with manual controls like focus, exposure, white balance. Shoot various frame rates and monitor your audio levels through headphones.This is the app being used by filmmakers to create feature length films. $7.99 for iOS.

IMOVIE – The updated version of iMovie for iOS is one of the few video editing apps that has two tracks of video and two tracks of audio. Trim clips, bring them to the timeline, split clips, detach audio and much more. iMovie is my go-to video editing app on my iPad and iPhone. Free on new iOS devices, $4.99 to purchase.
ADOBE RUSH – Adobe Rush is a lite version of Adobe Premiere for your phone and computer. It's one of the few multitrack video editing apps that is made for both iOS and Android. Once you create a project in Rush on your phone you can sync it to a laptop and even upgrade it to a Premiere project. Rush is free to use with your Adobe Creative Cloud membership. You can try it free with a free Adobe login.
SPLICE – Edit multiple tracks of video, record voice over into your project and more on GoPro's video editing app Splice. Splice is free on both iOS and Android.
VIDEOSHOP – Simple video editing app that allows you to trim, add text and other effects. Best part of this app is that you can create social videos timed specifically to Vine, Snapchat and Instagram. The timeline tool guides your editing for each social video platform. You can also upload video directly to Snapchat which means you can add more polished video stories in both horizontal and vertical formats. $1.99 for iPhone, iPad and Android.
FILMR – Extremely simple video editing tool. Made for short, visual first mobile videos. The vertical editing format allows you to quickly add clips, trim them and export your finished video. FREE and available on iPhone and Android.
CINEMAKER – A multi-camera mobile solution for streaming live video. You will need an iPad with the Cinemaker Directors Pad app and up to four iPhones, Androids or other WiFi enabled video devices. You can use a mix of iPhones, GoPros and DSLR cameras. The Director's Pad will sync the video automatically. Use the app for free two cameras. There is a learning curve for this app but if you want high quality live video that you can switch from mobile devices its worth the work. FREE and paid versions for iOS and Android.
ADOBE SPARK – Adobe Spark lets you create video with text and voice overs on your phone or on your computer. You can use Spark for free with an Adobe account. If you have an Adobe Creative Cloud account you can remove the Spark logo from your project and get more options for creating templates. Spark is available on iOS and Android.
Social media tools

BUFFER – Share to your Twitter, Facebook, LinkedIn and Google + from one place and at optimal times. Add up to five tweets/posts to your "buffer" for automatic posting at the best times throughout the day. You can also schedule the buffered posts. Use the app, web version or post from Feedly, Nuzzle and other RSS feed apps. Free — available on iPhone.
HOOTSUITE – Allows you to manage multiple social accounts from one app. Manage multiple Twitter accounts, Facebook, . Free — available on all platforms.
IFTT – If This Then That allows you to use and/or create "recipes" that tell your apps what to do. One example is a recipe I use that takes my Instagram images and makes them native Twitter images then tweets them automatically. IF recipes run in the background once they are set up. DO recipes create a custom button with a function. FREE – available on the iOS and Android.
Graphics and charts

CANVA – The Canva app and Canva.com allow you to create high quality social media graphics including Instagram posts, Facebook posts and headers, twitter posts, Snapchat My Story graphics and Snapchat Geofilter graphics. Canva is free but there is an upgraded version that is paid.
CHARTMAKER PRO – Chartmaker Pro allows you to quickly plug numbers into templates and get simple but effective charts for both digital and print. Digital charts have rollover interactivity built in. Download or share your chart as a PDF for print. FREE on iOS.
Extras

REPORTERS COMMITTEE – The non-profit Reporters Committee website gives on-the-spot resources to reporters who may have legal questions or encounter roadblocks while on assignment. Save the site to your homescreen for quick access to information about open records, courts, video and audio recording for federal and individual states.
Val Hoeppner, Digital, Mobile, Social and Multi-platform Storytelling and Training